Cigar Roller (Blunt Rolling Machine):
PRODUCTS: Perfectly rolls premium joints, blunts, or cigars .
FEATURES: Consistent compression, fully customizable, perfect roll.
CREATIVE CONTROL: Use glass tips, wood tips, or add cigar bands.
REQUIREMENTS: Needs to be mounted into a table.
DIMENSIONS: 16 in x 12 in x 6 in
Semi-Automatic Cigar Rolling Machine:
Rolls perfect joints, blunts, and cigars
The semi-automatic cigar rolling machine is perfect for craft producers who are looking to produce a pre-roll joint which will differentiate their brand by creating a one-of-a-kind smoking experience. Our cigar rolling machine is a hand operated, fully-customizable Lieberman used by premium hand-rolled cigar manufacturers around the world. The cigar rolling machine makes it easy to quickly produce consistent tube shaped pre-roll joints which you can further customize with glass tips, wood tips, ceramic tips, cigar bands, and more! Once you master the art of rolling cigars with our cigar rolling machine – you will be able to produce pre-rolls which live up to the quality flower you grow.
Equal Compression: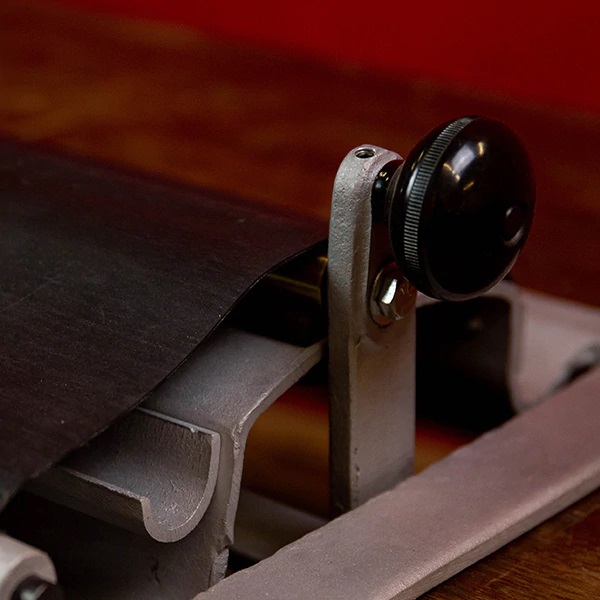 The main benefit of using a Lieberman style cigar rolling machine is producing a pre-roll which has perfectly even compression throughout its length. This even compression creates a smoking experience where the draw has perfect resistance so that you can take large flavorful hits with minimal harshness. Our cigar rolling machine allows you to consistently produce the same compression every single time. This means higher quality premium pre-rolls which you can market for higher price points.
Fully Customizable: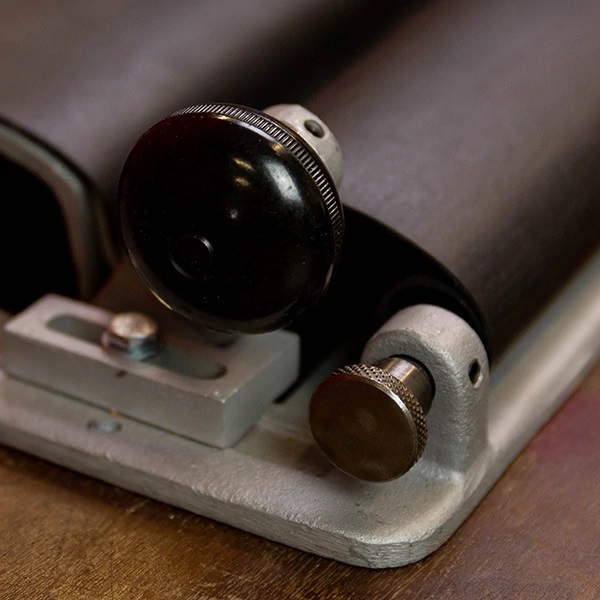 With this machine you are able to produce a pre-roll that is up to 12 inches in length with a diameter of up to 27mm (1 in). You can customize the amount of compression in order to change the draw on the pre-roll. You can further customize your pre-roll with our wood tips, glass tips and cigar bands. We can also provide cellophane tubes which will protect your pre-rolls from dust and provide a moisture barrier to prevent terpene loss.
Increased Output:
There are many producers out there currently producing products in this format by hand-rolling or using a non-commercial Lieberman device. Our cigar rolling machine allows you to achieve higher output due to the absolute ease when pulling the handles to roll the cigar. This reduces stress on the operator who can in turn achieve higher output. Further, the consistency of final product from the machine means lower waste rates and less re-work.
Disclaimer: Our products and services are intended for pharmacies, clinics, laboratories, veterinaries and only legal medical growers – qualified patients, primary caregivers or coops or collectives – who cultivate edibles in compliance with the Compassionate Use Act (Proposition 215).
About Brigade Packaging
At Brigade Packaging, we operate on a worldwide basis to provide our customers with container and packaging solutions for their needs. We supply glass, plastic, and metal packaging products to businesses and individuals. These include providing glass and plastic vials, glass bottles, metal containers, plastic and glass droppers, threaded test tubes, roll on bottles, mason jars, pop top bottles, bubble mailers, zip lock bags, pharmaceutical packaging and more! Most of our clients are small and medium sized business or individuals. With bulk orders, the wholesale pricing allows customers to considerably save up on costs, making it quite the affordable option.
Brigade Packaging has vast experience providing contract packers, dispensaries, pharmacies and retail shops with packaging solutions that help them succeed in the marketplace. No matter your size, positioning, or packaging needs, we provide outstanding service and bring you anything and everything from concept to commercialization. Our diversified offerings include vials, jars, bottles, exit bags and more with assorted closure systems that match your needs, be it rapid filling of orders behind the desk or secure ASTM and CPSC certified and tamper-evident packaging. We offer opaque child-resistant and tamper evident containers that are FDA approved and certified BPA free, making them a top choice for the secure and discrete distribution of pharmaceuticals, flowers, concentrates, herb and edibles of all kinds. Discerning dispensaries also flock to our ASTM approved child resistant pre-roll and blunt tubes, which take advantage of a unique squeeze-top design to deter children while maintaining ease of use for adults. Our ASTM approved child resistant exit bags take the guess work out of keeping up with complicated regulations by meeting the strictest state regulations.